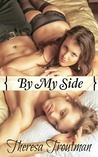 By My Side
by
Theresa Troutman
My rating:
4 of 5 stars
Reviewed by: Neilliza
*ARC provided by author in exchange of honest review*
☆☆☆☆☆ 4 ☆☆☆☆☆
Second chances is so much sweeter than the past.

Alicia had a hard past, where someone stomp on her heart and spit it out. She promised herself to fall in love again, because she doesn't know if she can survive another heartache. After a few months picked up the life she has left and moved to Auckland, New Zealand to heal and to have a fresh start. Everything was great, then walk in sex on a stick Hunter. While having a tea with her new found friend Tia, walks in almost naked Hunter. Wow, she wanted to jump him right there and then. In the back of her mind she kept reminding herself, she's there for a new start not to find a man.
Then Hunter started coming around here, never leaving her alone too long with her thoughts. They went out and got to know each other. She finds out later Hunter had a tragic past, so he hasn't let any woman in for years. Until she came along, Hunter only had hook ups with random girls and nothing more. Brought together by circumstances, their hopeful friendship turned into something more. They fell hard and fast. With the promise of a future together is their new found love enough to keep them together.
This was a short read and I enjoyed the heck out of it. Hunter and Alicia were super sweet. I do wish the story was longer, to give them a more evolve love. Except for that the book is just the kind of sweetness I love to read.

View all my reviews