---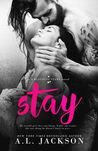 Stay
by
A.L. Jackson
My rating:
5 of 5 stars
Reviewed by: Michelle
ARC provided by author in exchange for an honest review


Stay by AL Jackson is a literary composition that beautifully blends raw emotions, love, and second chances in a visceral and poetic manner. There is no question in doubt that Jackson has a way with words. It seems she has this ethereal way of tugging and pulling those heartstrings as her words bleeds into our hearts, mind and soul.

Jackson knew the lyrics to our heart when it came to mending the broken pieces as she brought forth two broken and lost individuals. Hearts are strumming, beating and racing wildly as readers could feel the pulse and connection of Willow and Ash. Is it fate? Kismet? Regardless of what you may call it, when their two worlds collided it brought forth a deep connection that will only stay with you. Yes, it stayed. It bleed deep into your hearts and bones where you were left speechless, breathless and mesmerized.

The beauty of Stay is getting lost in Jackson's words, flawed characters and the raw emotions. It's about surrendering to the brokenness, emptiness, loss, heartache and most importantly the love. The writing was brilliant, poignant and full of compassion. Her poetic and lyrical prose is a symphony of beauty, truth, understanding and hope. So are you ready to feel and get consumed with every tangible and palpable elements of the tune and melody of AL Jackson? If so, I suggest you Stay.