---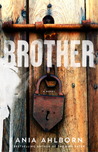 Brother
by
Ania Ahlborn
My rating:
4 of 5 stars
Reviewed by: Michelle
ARC provided by publisher in exchange for an honest review


Disturbing!!!!! That is one word that comes to mind when I read BROTHER by Ania Ahlborn. This book literally was utterly chilling, twisted and sinister. It was one of those dark reads that frighten you to the core on how disturbing and psychotic one family is. The Morrow family takes the meaning deadly to a whole new level.




They say blood is thicker than water. But in the case of The Morrow family, blood unites them and binds them as they enjoy the kidnapping and killing of young women. In this crazy family, the mother is the most brutal one out of all them. She enjoys the kill, the blood, the screams, and of course the torture. And accompanying her, is her evil eldest son, Reb. Reb uses his authoritative figure to manipulate his siblings especially his younger brother, Michael. He thinks of Michael as nothing but weak and stupid. Reb has always been jealous of Michael and so he plots away his plan to really suck in Michael into the family rituals of enjoying the kill. As much as Michael wants to escape from his family and personal hell, the threat of what Reb would do to the one girl that he is attracted to makes him fearful and wants to stay behind to make sure Reb doesn't do anything to harm the girl. But as Reb learns of his brother's plan to runaway, his plan of revenge is set in motion... And so Michael must decide how far will he go to be the good obeying brother that he is...or will he end up following in his brother's footsteps?

Ms. Ahlborn delivers one of the most twisted and sinister reads that I have read. As you are immersed into the story, you could practically feel the screams radiating off the pages as blood and torture are taking place on the Morrow's compound.The writing was well-written and Ms. Ahlborn perfectly paints a vivid picture with her words and story-telling of the living hell and cruelty that is taking place in the Morrow household. In the gruesome and deadly tale, the author perfectly captures the psychotic minds of each member of the household. The killings, the lies, the betrayal, and the revenge are perfectly incorporated in this dark psychological thriller. So if you enjoy the crazy, dark, frightening, hair-raising, and evil twisted reads then I suggest you give BROTHER a try.


Ania Ahlborn
View all my reviews