---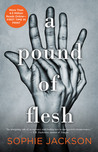 A Pound of Flesh
by
Sophie Jackson
My rating:
5 of 5 stars
Reviewed by:
Neilliza
**ARC provided by author, in return for an honest review.**
Pound of Flesh is a gripping love story of two people finding love in the most unexpected way. Wes Carter was sent to prison for something that had nothing to do with him, which you will find all about when you read the book. Wes Carter and Kat Lane met in prison, while she teaching a group of inmates in English Literature. Carter had a temper on him, he made everything hard in prison for everyone. Except for a few buddies, he was a real a** to everyone else. With his anger tantrums causing trouble for him, he almost lost his parole because of it. With the help of a very determined new Tutor Kat, he worked his way up, until he was released in jail with Kat's tutoring help.




Before his release, Kat and Carter became close. They started understanding each other and listened to each other. Especially after Carter realized that 16 yrs ago, Kat (his Peaches) was the girl he save from her death. The girl he never stopped thinking about. So When he was released and tutoring time continued with just the two of them, they got even closer.

Their love was forbidden. With Kat being the teacher and Carter the student, they couldn't be together. With policies in hand, Kat couldn't risk it. Kat would lose everything, if anybody ever found out something was going on with them two. With the love and understanding they have for each other, will it be enough to risk everything Kat have worked so hard on? Read and find out.
This is a very long book, that will keep you on the edge of your seat until you are done. With so much going on in this story you can't help, but want to know what comes next. With lying families, broken friends and love all around them anything can happen. I love this story, I fell in love with Carter and Kat's love story right away. The way they were with each other, how they were the only ones that really understood each other, the sweetness that they have towards one another, what's not to fall in love. This book may not be focused on sex, but every time these two goes at it, it was nothing but sweet and hot as hell. Just their kiss could burn a hole in the book, when you read it.

This book had so much going for it, that I can understand how it became an online hit. Sophie definitely deserves all the love she gets from this book. I Love, love this book. Sophie is a great story teller, with so much heart and emotions put in the book.. that this story will leave you wanting more. This is definitely a must read. I cannot wait to read book 2 and 3. Really looking forward to the next 2 books. Till Then.

View all my reviews
---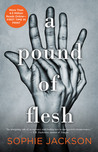 A Pound of Flesh
by
Sophie Jackson
My rating:
5 of 5 stars
Reviewed by:
Michelle
ARC provided by publisher in exchange for an honest review


An absolutely BREATHTAKING BEAUTIFUL READ!!! A Pound of Flesh by Sophie Jackson was an utterly addictive read that captured and gripped my heart from the opening pages. There are not enough of words to describe the magnitude of how beautifully epic, profound, stunning, gripping and touching this book was. In this beautiful tale, Ms. Jackson was able deliver a forbidden tale that will forever stay with me. A POUND OF FLESH is an unforgettable read that was tangible, euphoric, palpable, and illuminating. A book that is not only a LOVE STORY but a story that speaks volumes of LOVE, HOPE, FORGIVENESS, REDEMPTION, SALVATION, HEALING and SECOND CHANCES.




After reading this book, Sophie Jackson is automatically on my favorite list of authors. This book epitomized everything what I craved, wanted, desired, and needed in a ROMANCE book. A Pound of Flesh was literally pouring with so much heart,soul, and raw emotions. Only one word comes to my mind with this book. CONSUMING. A Pound of Flesh consumed me. It made me FEEL. Felt the pain. The loss. The regret. The confusion. The agony. The fear. The desperation. The hope. The love. And the heart of two strangers whose lives and hearts were forever intertwined with one another.

This is not just an ordinary forbidden romance. It is a romance that takes you on emotional roller-coaster ride. It is a love that has weathered the storm. A love that cannot be denied. A love that has clawed out from darkness. A love that is battled tested. A love that is more than a pound of flesh. It is the kind of love that every literary classic romance novels talks about. An all consuming kind of love. A love built on passion, honesty, understanding, loyalty sacrifices, and heart.




For Kat Lane, teaching is something that she has always wanted to do. It was her promise to her deceased dad that she will make a difference in someone's life and teaching was her way of fulfilling that promise. And so against her friends and family wishes, she took a job teaching inmates in a New York prison. Unbeknownst to Kat, she would find someone to erase the ghosts that haunts her. Wes Carter is an inmate who was up for parole and who was enrolled in her Literature class. For Kat, she thought she would be teaching and helping these inmates but as it turns out Wes Carter was the one to teach and change her life for the better. So can a man who has been cast away and judged by the public, be the one person to teach us the most important lesson of all? The lesson of forgiveness, salvation, and love?

"Carter vowed to himself that he would continue to repay her every single day of his life. It was his most deeply desired obligation. His precious debt. His beloved pound of flesh."

A POUND OF FLESH was everything I wanted in a book. This book blew me with it's beautiful heartfelt writing and story-telling. This book was a story that needs to be read and experienced. It will take you on a journey that you will leave you breathless. Ms. Jackson is a masterful storyteller who was able to shatter my heart and at the same time slowly mend the pieces of my heart back together. So if you are ready to get swept away in a heartwarming tale that showcases a bond so tangible and palpable, then I HIGHLY recommend you to read A POUND OF FLESH.


Sophie Jackson
View all my reviews