---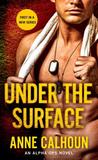 Under the Surface
by
Anne Calhoun
My rating:
4 of 5 stars
Reviewed by: Michelle
ARC provided by publisher in exchange for an honest review


Under The Surface by Anne Calhoun is the first book that I have read from this author and it surely won't be my last. If you are a fan of romantic suspense which is one of my favorite trope, then this book is right up your alley. I loved that Ms. Calhoun was able to weave steam, banter, sexual tension, romance and of course some grit into this sexy romantic suspense.

As a pastor's daughter, Eve Webber decided to venture on a career that is far from what is expected of her. As a bar owner, Eve has a lot on her plate making sure her bar, Eye Candy is successful. As a savvy business woman, Eve runs a tight ship when it comes to her business and so when she hires a new bartender, Eve finds herself enthralled with the newest eye candy,Chad Henderson.

When Eve hires Chad, they hit it off and instantly readers could feel the sexual chemistry brewing between these two. But what Eve doesn't know is that Chad is an alias and he really is Detective Matt Dorchester.

Matt goes undercover to make sure Eve Webber is protected and that she stays true to being an informant for a case that he and his task force are putting on. Eve is unaware of who really Chad is but the chemistry between these two is palpable from the start. What happens when Eve learns of Matt's true identity? Will she be able to trust him when her safety and life is on the line?

Under The Surface was a fast paced romantic suspense that will keep readers entertained. I instantly fell in love with Eve's personality and charm so I knew she and Matt would hit it off because she brings out the playful and fun side in Matt. This book definitely made me want to check out more works from Anne Calhoun. The writing was fresh, sexy and had that suspense aspect to keep me engaged with the story line. So if you are looking for a great summer read, I would suggest you give this book a try.


Anne Calhoun
View all my reviews